August Dance Festival
Our first annual August Dance Festival was a success! We appreciate all who were able to help us celebrate throughout the month of August.
August Dance Festival 2019 updates:
5/10/19 –– New location- Franklin Jr. High. 4801 Franklin Ave. The Dance Lab in  Room 1241 (Second Floor)
6/22/19 –– Modern Dance Concert. Saturday, August 17, 7 PM. The Dance Lab #1241 (Second Floor)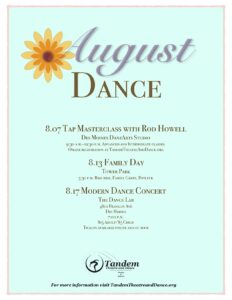 2019 event list:
Tuesday, August 13 at 5:30. Family Day bike ride and potluck at Tower Park

Meeting at the South Entrance of Franklin Jr. High at 5:30 P.M. and biking around the neighborhood. Finishing up at Tower Park for a few games and simple potluck snacks. Please bring something simple and refreshing to share. Email [email protected] if you have questions.
Purchase your Modern Dance Concert tickets with this link:
---
Past Event List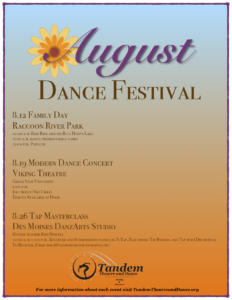 2018 event list:
Family Day–Sunday, August 12
Modern Dance Concert–Sunday, August 19 at 2 p.m.
Tap Masterclass with Rod Howell–Sunday, August 26